YOU HAVE 4 DAYS LEFT TO CAST YOUR VOTE
'Ballot is now open to vote on Reidvale's plans to transfer into Places for People Scotland - Remember to vote by 5pm on 11th December 2023!'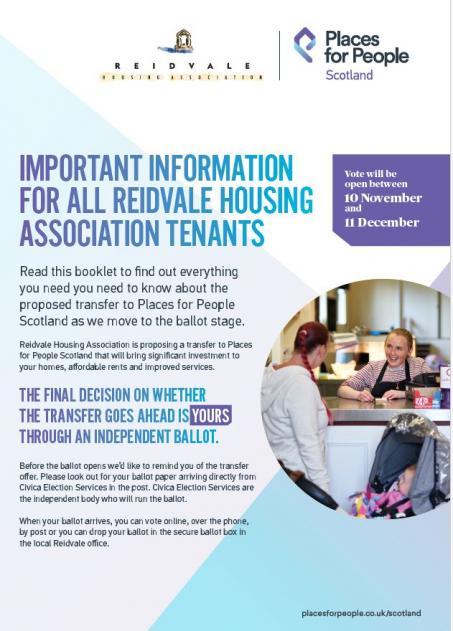 On 9th Novembers 2023, Reidvale sent you a Stage 2 Notice on the proposal for Reidvale Housing Association to transfer its interests to Places for People Scotland (trading name for Castle Edinvar Housing Association).
This notice outlined the outcome of the Stage 1 consultation, which ran from 22 September to 23 October 2023. During the consultation, Reidvale and Places for People Scotland tried to speak with every Reidvale Tenant. We also welcomed feedback from factored owner customers and shareholding members. Many tenants provided their feedback and asked questions. Thank you to everyone for taking the time to share your views.
We managed to engage with over 80% of our tenants in the 4 weeks. There was support for Places for People Scotland's package of transfer promises with 72% of tenants indicating they would be voting YES when the tenant ballot is held. Some tenants preferred not to say or were undecided. Just 8% said they did not support the transfer.
The Reidvale Management Committee carefully considered all Stage 1 feedback/ representations and received weekly reports during the process to keep them informed.
Given the very positive responses from the majority tenants, and in consultation with TIS, we have agreed with Places for People Scotland that there are no changes required to the transfer proposal as a result of the consultation. The next stage is to seek the approval of tenants to the transfer by conducting the independent tenant ballot that will be run by Civica Election Services.
The ballot will ask just one question on whether you want the transfer to proceed with a YES or NO option for you to cast your vote. The ballot will commence on Friday 10 November 2023 and close at 5pm on Monday 11 December 2023. For the transfer to happen, the ballot result must demonstrate that a majority of tenants voting, vote in favour of the transfer. Once the ballot closes, the result will be reported to our Management Committee, to Places for People Scotland's Board and to the Scottish Housing Regulator as required by statutory guidance. We will then quickly communicate the result to you and other key stakeholders.
Only tenants can make this change happen. Your vote really does count, so when you receive your ballot paper, please take the time to cast your vote and vote YES for a bright future and a new beginning for Reidvale.