TRANSFER OF ENGAGEMENTS
Stage 1 Consultation
Formal Tenant Consultation Begins - Tell us what you think by 23rd October 2023!
On 22 September 2023, we begun the first stage of formal consultation with our tenants on the plans to transfer all of our interest into the Scottish housing association and charity, Places for People Scotland (trading name of Castle Rock Edinvar Housing Association).
All tenants should have received their Stage 1 Notice (booklet) setting out what the transfer means for them and the detail of the final offer that has been secured from Places for People Scotland if tenants support the transfer. This was shaped by months of informal engagement with tenants and the wider community.
You can access the Stage 1 notice here and this has also been sent to our factored owners customers, shareholding members and other key stakeholders. The Notice also summarises what will happen if transfer does not take place.
Tenants have until 23rd October 2023 to tell us what they think about the final offer and whether they are supportive of the transfer proceeding. Staff from Reidvale and Places for People Scotland will be out visiting every tenant to make sure they have received the Notice, to answer any questions and take feedback. When we visit, we will also be able to tell you about the Places for People Scotland investment plans for your home or arrange an inspection if we need more information.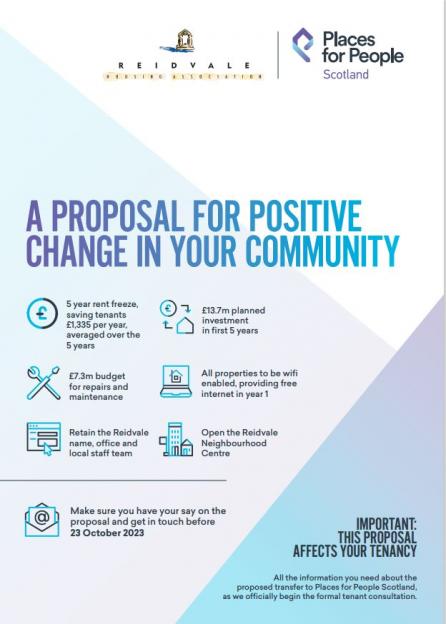 We will also hold a number of events in the community on 2 and 11 October to allow tenants to come together and give feedback. Details are in the Notice. You can also give your feedback directly using the QR code in the Notice or by following this link.
Feedback will be considered by our Management Committee and Places for People Scotland on 31 October 2023. If feedback and support is positive, Reidvale will then serve a second notice to confirm any changes and commence the tenant ballot where every tenant will get to vote YES or NO on the transfer taking place. The ballot is run independently and we hope that this will take place over November/ December 2023. If tenants vote YES to the transfer, the target date for the transfer happening is Spring 2024.
The full Business Case supporting the transfer has been assessed by the Scottish Housing Regular who were satisfied with it and supportive that we begin formal consultation.
The Tenants Information Service (TIS) who act as independent tenant advisers to tenants on transfer matters also assessed the full Business Case. They confirmed that the Business Case is supported by a financial model that will fund all the transfer promises Places for People Scotland have committed to. They were satisfied that Reidvale's finances are not viable on a standalone basis as it is unlikely that funding would be secured to fund its own funding package.
TIS concluded that the transfer to Places for People Scotland offers the most satisfactory outcome for tenants. They said "The intended benefits to Reidvale tenants are significant and will lead to better outcomes compared to what they will receive should Reidvale continue as a standalone organisation. On this basis, we were able to confirm that the transfer offers the best option available to secure future viability, rent affordability and the delivery of a comprehensive improvement programme." The full TIS presentation on the review of the Business Case to the Transfer Focus Group made up local tenants and residents that have worked with us to shape the transfer plans is available here.
We look forward to hearing from every tenant to tell us what you think of the final offer and whether you support the transfer. You will still be asked to cast your formal vote in the tenant ballot which will happen later this year.